Stay Ahead with High Quality ESCO Carbon Steel Sleeves
Genuine ESCO Quality
ESCO Carbon Steel Sleeves are precision formed for a proper fit every time, and are heat treated in a controlled atmosphere to ensure maximum ductility, easy-of-swaging and dependable swaging service.
Properly swaged ESCO Carbon Steel Sleeves will meet Terminal efficiency levels (Ref: WRTB -Wire Rope Users Manual) throughout the useful temperature range for wire rope.
Choice of Finishes:
ESCO Carbon Steel Sleeves are available in two popular finishes, an oiled finish or a corrosion resistant Zinc-Chromate finish where extra protection is required.
Competitive Pricing:
ESCO Carbon Steel Sleeves are priced competitively with larger discounts for larger volume.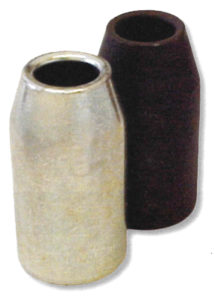 Total Value: Remember when you choose ESCO you get reliable Carbon Sleeves made in the USA at competitive prices.
PLUS

Swage Dies engineered by ESCO for Carbon Steel Sleeves

PLUS

Swagers and Swaging Instructions

PLUS

after sales service and support

PLUS

can be stamped for identification

PLUS

the security of knowing that supporting technology for the entire system is just a phone call away at 800.446.3726
This is the Total Value you have come to expect from ESCO; a Global Steel Technology Leader since 1913.
Download Specifications Sheet