SOCKETFAST resin is a convenient two-part liquid system. There are no dry powders which can become airborne to create health hazards or affect product consistency. No need for dangerous acid etching, open flames, or for handling hazardous molten metals.
100% of Rated Rope Strength
Independent tests confirm that socket assemblies properly made with SOCKETFAST resin provide 100% of the rated rope strength.
Maximum resistance to shock loading and fatigue

Test results show that rope assemblies using SOCKETFAST resin withstand repeated shock loads better than other terminal methods because of better elasticity where the rope meets the socket.
SOCKETFAST resin withstand severe environments
SOCKETFAST resin is extremely reliable over a wide range of temperatures — from -55 to 95ºC / -65 to 200ºF. This resin socketing system is not affected by electrolysis or by immersion in most corrosive fluids.
SOCKETFAST resin is easy to use
Installations can be done in a variety of locations; in your shop, on a ship deck, or on the job site. No need for open flames or handling hot metal. Follow the installation steps outlined on the next page. Uniform dispersion of the filler throughout the two part liquid system ensures a homogenous mixture, and allows horizontal pouring if necessary. — link to jump down to second page —
SOCKETFAST resin cures quickly
Assemblies with SOCKETFAST resin, develop 100% of rated rope/strand break strength after 1 hour at 21ºC / 70ºF or they are ready for service in only 5 minutes after a 120ºC / 250ºF cure. At either ambient or elevated temperature cures, SOCKETFAST resin beds in or creeps in the socket basket up to 30% less than zinc on initial loading.
SOCKETFAST resin has a one year life from the date of manufacture — each container is dated
SOCKETFAST resin may be used with ESCO wedge ferrules (without the wedges)
Material Safety Data Sheets are available at www.riggerschoice.com
Warning: SOCKETFAST resin is not meant for use with stainless still wire rope.
Warning: Give particular attention to selecting sockets designed for resin socketing. Avoid using sockets with rings. If sockets with rings are used, the rings should be filled prior to pouring the resin.
Warning: SOCKETFAST resin must not be used with zinc ferrules.
Horizontal Socketing
In shops or storage areas where reels or large-diameter wire rope are stored, on site socketing can save thousands of dollars in handling costs. This is also true in remote operations. For example, offshore drilling rigs and platforms, or mining areas. No need for transportation to a special socketing area! No need for elevated pouring towers!
After the wire rope is prepared as described, and after the fitting is installed, the assembled termination is placed in a horizontal position and blocked up to align the axis of the rope and the fitting. If a number of sockets are to be installed on a routine basis, a suitable cradle can be fabricated to simplify this alignment procedure.
After checking the broom for uniform wire distribution, the annular space between the rope and the base of the fitting should be sealed with putty, leaving a small bleeder hole at the 12 o'clock positoin. This temporary vent, which later will be sealed with putty, will allow air to escape during the pouring of the ESCO® SOCKETFAST™ resin, thus assuring complete saturation of the resin at the apex of the broom.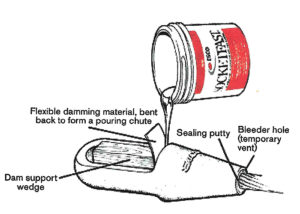 Insert a piece of damming material, like cardboard or other flexible gasket material, and a wooden wedge at the large end of the basket, as illustrated. Place the cut to size dam over the opening, bending back the upper portion to form a chute and wedge it tightly in place. For open shelter sockets, insert a pin or dowel through the ears to serve as a pressure point for the block.
Fill the basket completely:
Pour until the resin begins to come out of the bleeder hole at the base of the fitting. Then, seal that hole with putty and continue pouring until the basket is filled completely and the level of SOCKETFAST resin in the chute remains constant. Excess material may be trimmed off after hardening, if desired.